My clients learn to outwit worry
and to welcome –or at least live with –
uncertainty.

"You continuously give me permission and encourage me to do my best. I feel happy and free as a consequence. I have found a great role model in you, as a coach, a woman and an abundantly wise human being. " A client
My philosophy of coaching, and qualifications: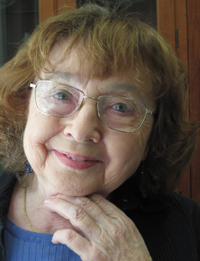 Born and raised in England, I left school at sixteen and came to the United States in my twenties. When my children were grown I completed several graduate degrees in psychology, became a Credentialed Alcohol & Substance Abuse Counselor in New York State, and later experienced the pulls and pushes of being a "middle manager." While working in the addictions field I also took two years of training as a professional life coach. I opened my coaching business in 1997 and soon had a full practice.

However, unexpected things happen. I was called on in an "emergency situation" that turned into 15 years devoted to the development of several college training programs in the field of addictions counseling, on which I have also been teaching part-time. In 2016 I made several major life changes, including the choice to leave teaching and focus more closely on my coaching.

Over time my life experience has been much wider than indicated here, and this enables me to coach around a wide range of stumbling blocks that undermine many peoples' confidence and ability to make positive decisions.

How I coach
Some people imagine that a Life Coach is someone who will tell you how to live, what to do, and where to go. For the most part, this image is wrong! While there are, perhaps, one or two coaches who take that approach, I, like most coaches, believe that the client is the expert on the client's life. I believe that my job as a coach is to help clients to tap into the wisdom that they already have, even if they have not yet met it.
Questions
I do this by asking questions, listening, and asking more questions based on the client's goals. I empower my clients by reminding them of their strengths, encouraging them in their dreams, and telling them the truth whether the truth is or is not hard.To see what some have written about the results of my coaching, see the Testimonials page.

Before we start our coaching process I always ask my clients how they want to be coached. Do they want gentle encouragement, or do they seek something more stern, more challenging? Some people need to talk at length because, as someone once put it, "I need to hear what I say so that I can know what I think." Others seek more active interaction. I try to provide whatever is their preference.
Coaching process
My most popular coaching process involves three 30-45 minute phone calls each calendar month, reasonable email correspondence between calls if needed, and what I call "triumph or tragedy" calls, brief phone calls to deal with crises or to celebrate successes. However, central to my coaching is flexibility appropriate for each specific client, and I have found that coaching face-to-face can work for people local to Rochester, New York in the U.S.A. Another alternative is email coaching. This can also work very effectively – probably far better than some people would expect. Not only does it remove the need for regularly scheduled appointments and solves time zone problems (especially for clients who travel a lot), but it also considerably lowers the cost to the client.
Qualifications
Despite having left school at age 16, I later obtained a Ph.D. in Social Psychology from the highly reputed University of Rochester, New York, as well as a Bachelor's degree in human development and two Master's degrees in different aspects of psychology.
As to qualifications for my various forms of coaching, all of which have added to the skills that I use for the benefit of my clients, I am a Certified Graduate of the organization known as Coach U, one of the first training programs in the field of professional life coaching, and a trend setter in terms of certifications. I also have certifications in various coaching niches, including as a Confidence Coach and a Guerrilla Marketing Coach.
Although technically not connected with coaching, I suspect that my qualification – and even more my experience – in addictions counseling has presented me with many life experiences that widen the scope of my coaching far beyond what it would otherwise have been.
Communication
I have a World Class Speaking Coach certification, am a "Distinguished Toastmaster" in Toastmasters International, and have worked with hundreds of people on their writing skills.  I was at one time a Professional Certified Coach (PCC) in the International Coach Federation. However, I allowed that certification to lapse during the time that I was focused on teaching Addictions Counseling.

If so inclined, you can find a more detailed resume here.
How can I help you?
I'd be delighted to hear from you via my Contact page or, if you need more time to figure out who I am, please sign up for my twice-monthly newsletter, "Work in Progress (because we all are)." To sign up, free of course, see the form to the right, near the top of the page.